This last month has been amazing in terms of games! We had many great releases, often back-to-back!
In the meantime, if you are looking for some hidden gems you might have missed, look no further…this is the place to be! I listed our current customers' favorites by genre:  all those games are 4 stars or more on iWin.com and they give hours and hours of great gameplay.
Love Adventure and Hidden Object? Make sure you did not miss the adventurous Mortimer Beckett: The Crimson Thief , the fun and fast-paced 4 Elements II, and the very romantic Love Chronicles: The Sword and The Rose.
How about some Match-3 games? Then add to your download collection the new and already classic Jewel Quest,   Heroes of Hellas 3, and the very challenging 7 Wonders Magical Mystery Tour. Did I mention that 4 Elements II is a great mix of Hidden Object and Match-3, which is my personal favorite genre mix!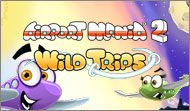 Time Management is your thing? Give Airport Mania 2 a test flight.
There's almost too many to play–but with the cold season already here, what's better than cozying up and going on an adventure in your own home? Don't forget the hot chocolate!