OMG- this is a TRULY addictive game… you do not want to miss this great deal.  On the day of launch, iWin's latest iPhone game is going to be on sale for only $.99.  After that, it goes back to its regular price of $1.99 so make sure to sign up to be notified when it launches.  Honestly, it is really addictive…. I can't stop playing it… argh.  Makes my commute to and from work a pleasure though!
If you want us to notify you when it launches, click below!
Introducing Solitaire Twist for the iPhone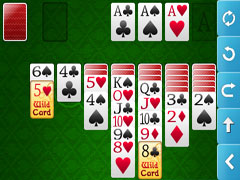 Day of launch only: Solitaire Twist will be on sale for 24 hours for $.99 (Regularly $1.99)! Sign up now to get an email notification the day it launches!
Solitaire Twist is a new take on an old favorite, including solitaire favorites such as "Klondike", "Pyramid", "Freecell", and "Spider".
The "Twist": "Cheat Tokens" and Wild cards are in this amazingly addictive game, giving the player the unique opportunity to work their way through the most challenging of game mechanics without the restrictions of having to work with the hand that was dealt.
You're in control! You can choose to experiment with up to 12 "Cheat Tokens" and 3 Wild cards.
Of course, nothing comes for free…We'll give you one Wild card to start, but you'll have to earn the rest of the goodies on your own!