What a trip creating Jojo's Fashion Show: World Tour has been! I feel like I've traveled the world and back again, rounding up the hippest styles from Indonesia to Paris for you fashionable fans. My favorite style hands-down is the Gothic Loli style from Japan. It's dark and mysterious, but still has a very feminine cut to it. I love how the game allows me to

experiment with styles like Gothic Loli, which are more daring than the clothing I get to wear in everyday life. You'll get a peek of the Gothic Loli style in Tokyo, the game's first destination, where Jojo learns just a bit more about new intern, Hayley, during fashion week.
Although I could go on forever about all of the game's twists, turns and new features, I thought I'd add another perspective on what makes this game so compelling.  Read on below for more about the game and how to succeed at it from Lead Level Designer, Erin Fernandez. Not only has she made brilliant creative contributions to the game, but she's willing to dish on insider info.
Which of the game's new features do you think players will be most psyched about?
I love being able to make my own clothes.  I have a sewing machine, but am not very good at actually making things with it.  The Design Clothes part of the game lets me play around with colors and patterns, without the frustration of ruining some perfectly good fabric.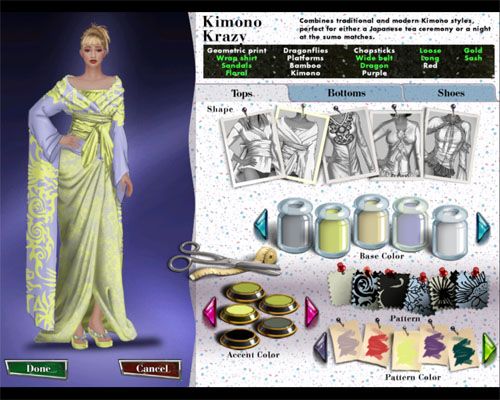 Who would you recommend this game to?
Definitely my sisters.  I have two sisters, and we all love fashion.  We grew up with Elle and Vogue on the coffee table, and are always very fashion conscious.  I think they would absolutely love to play this game, and would enjoy it as much as I have.
What's your favorite style in the game?
It's hard to pick, because there are so many awesome styles in the game that playing it makes me want to go shopping!  But if I had to pick one style that I'd love to try to mix into my wardrobe, I'd say Paris Street.  I love the high-waisted skirt in those levels, and the gathered peasant top.  I love that it's chic and tailored on the bottom, but feminine and bare shoulder on the top.  Indonesian Bridal is another one I'd love to wear, especially the jewelry. I can see myself rockin' the chunky choker necklace or the cuffs. I love the clothing in that style because of the rich, vibrant jewel colors, and the funky patterns.  It really is hard to pick a favorite style!
Tips and Tricks for the Fashion Enthusiast!
Erin recommends the following:
Match colors…you might end up with a bonus if you do.  And take the time to look for signature outfits.  If you can take a glance at them early, and try to remember what they look like, you can keep an eye out for those pieces over the course of the level.  Also, read the style cards at the beginning of a level, and pay attention in the levels where there's only one style.  Those teach you what the style's look is all about, so you can be familiar already in the more difficult levels ahead