Did you try Coconut Queen yet!?
Coconut fever is here, and if you haven't yet tried Coconut Queen, here is your chance! Try your hand at Coconut Queen for free, just CLICK HERE!
Playing Coconut Queen puts you on a journey to a tropical escape, and of course you also earn Opals while playing Coconut Queen! And what better way to spend those Opals than on some cool and unique Coconut Queen items for your Hotel room? Today we have a new RARE item for you!
Resting in the shade between tasks in Coconut Queen sounds pretty tempting. What better place than your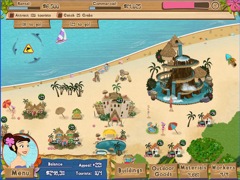 own Coconut Queen Beach Hut! There are only 200 total, and for a rare item this baby is pretty cheap! For a cool 1000 Opals you get your very own Beach Hut! Rush to the store to grab yours before they are gone!!
What would be a paradise and a Beach Hut without foliage? We also have some super cute Palm Trees to put you into the tropic mood. To round out your decorating trip, we have a lovely Coconut Queen Mural, featuring the same artwork you can find inside Coconut Queen.
So be sure to try the game and make your own Coconut Queen Hotel room and getaway to a sunny and relaxing spot in the tropics!!
| | |
| --- | --- |
| SALE ITEM | CATEGORY |
| Lifes a Beach Background | Backgrounds |
| Surfboard | Hobby |
| Sand Castle | Outdoor |
| Blue Folding Chair | Chairs |
| Blue and White Umbrella | Furnishings (Others) |




This sale ends on Tuesday around noon PST. So get your sale items today!
Here are the new items we have for you today:
| | |
| --- | --- |
| ITEM | CATEGORY |
| Beach Hut | Outdoor |
| Palm Tree | Outdoor |
| Coconut Queen Mural | Backgrounds |
| Red Swim Trunks | Bottoms (male) |
| Green Swim Trunks | Bottoms (male) |
| Black Swim Briefs | Bottoms (male) |
| Short Swim Trunks | Bottoms (male) |





To post a COMMENT please click HERE!