iWin has been abuzz with the upcoming release of Kelly Green Garden Queen . Talking about gardening in the game naturally leads to talk about people's personal gardens, and all the beautiful flowers they have.
Do you love flowers? I know I do!
Well for this week's contest, in honor of the release of Kelly Green: Garden Queen we are going to be giving away the grand prize:
A YEAR OF SEEDS!!
You too can be like Kelly Green and grow your very own beautiful windowsill garden year-round! The grand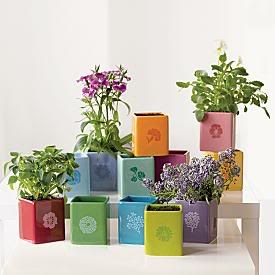 prize winner will receive this SUPER CUTE assortment of 12 candy-colored earthenware pots along with their easy-to-grow seeds! Be your very own Gardening Queen in no time!
But that's not all! Our 2nd place winner will receive a 50 dollar flower bouquet! You can enjoy all the beauty of the flowers without the wait!
To enter go to our iWin Promotions room located HERE and click on the door. The door will take you to an entry form page. Just fill out the entry page and you'll be entered! This will be a random drawing of 4 lucky winners.
What are all the prizes? Well I'm glad you asked!
1st prize – Year of Seeds and 3000 Opals
2nd prize – Flower Bouquet and 2000 Opals
3rd prize – 1000 Opals
4th prize – 500 Opals
Please note to win Opals you must include your iWin account name.
You may enter the Kelly Green Garden Queen contest twice according to the rules listed here. But beware, entering more than twice may disqualify you from the contest.
Also, unfortunately due to shipment restrictions, our first and second place prizes are only open to US Residents.
This contest will end next Tuesday, August 11, 2009 at 10am PST.
The winner will be announced the next Wednesday afternoon.
So go click the door and ENTER HERE and be a Garden Queen today!
As for last week's contest, there were a LOT of great entries. Our grand prize winners last week were emom1st, baileyvm, nluvtm, cattjam, kblue56, 13sahsa, and hottdott!! Congratulations on winning 3000 Opals!
There are a lot of different types of summer days, and we wanted to make sure variety of them were winners!  The Opals will be awarded late tonight, so keep an eye on your Opals balances!