Peter – Game Producer at iWin
Well, it's been a long time in the making, but Kelly Green Garden Queen is nearly ready! Just a couple of weeks left to tidy things up. What is Kelly Green you ask? Well, it's just the coolest combination of great resource management combined with time management!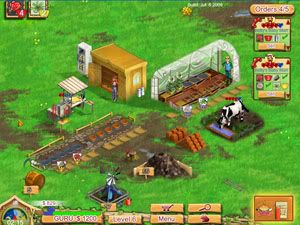 In Kelly Green Garden Queen, you get to manage the success of the Kelly Green Nursery. You see, Kelly was a city girl until a legal notice about her Grandfather's estate, and a long forgotten struggle with the lawyers, gave full ownership of the nursery to
Kelly. She never thought she had it in her, but then she figured, what a great opportunity to have an organic flower nursery of her own! From then on, it becomes a family affair.
You get to help Kelly reach her ultimate goal of creating a large successful nursery by managing resources and customers; Plant the plants, milk the cows, arrange the bouquets and get those orders filled! Not only do you have four very unique characters to manage, you also have the potential for a nearly limitless nursery to build.
It's a very cool game with hours of entertainment. The graphics are like nothing you've seen and the game play sets this one apart from the competition.
So when it comes out, grab it! Play it! ENJOY IT!!!
It was a blast to create.