There's something going on today. Something big, I just can't remember what it is.
No no, don't tell me, it's on the tip of my tongue.
Starts with a "J", ends with an "uest"
Ow, I keep bumping my head on something, what is tha…
Holy moly, Jewel Quest Mysteries 2: Trail of the Midnight Heart is out today!!!
Ok ok, I knew that, we've all been working very hard to bring you this wonderful game.
I think you're really going to like it. Of course it has all the familiar elements; a great adventure story that you've come to expect from the Jewel Quest series – Jewel Quest jewel boards between the levels – hidden object search screens with breathtaking art.
It also has some really cool new features.
Some of the objects you're searching for – say a hammer or a screwdriver – are tools that will be placed into your inventory as you find them. You'll need to figure out how to use them in the scene in order to uncover pieces of the jewel boards. If you've found all the objects on a screen and it won't let you leave yet, you need to do something with an inventory object, look for something that's sparkling and use an inventory item there.
Other times you're searching for dragonflies in your list of objects, and once you find them, they will bring you a piece of the jewel board.
There's also a really unique feature in the scrolling search screens. You are moving through the landscape (in a plane, on a train, etc) and plucking out the objects as you go.
In each search screen there are gold lion coins. For each three you find, you earn an extra hint. There are also a bunch of small jewels to find in each screen. You can use those to purchase cool powerups to assist you. A few of the powerups are: Freeze Screen – Allows you to pause the timer while you continue to hunt. Dragonfly – A dragonfly leads you to a gold lion coin. Jewel Sense – Your cursor sparkles of it's near a jewel.
And as if all that isn't enough, we've also got two, TWO different contests!
iWin is giving away $1,000 a week for 6 weeks!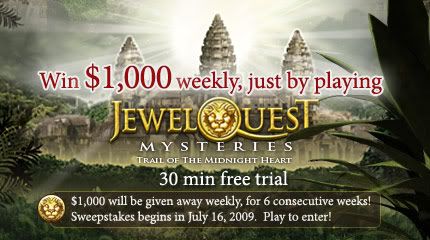 Download the game, and look for the iWin logo in one of the opening search screens. Click on the iWin logo to bring up an entry form. You could be one of six lucky people to win $1,000!
We're also giving away a gorgeous diamond and garnet necklace.

I have seen the necklace, and it is beautiful! We're talking real diamonds. I'm also very fond of money, so I'm extremely jealous that iWin employees aren't eligible to win!
I asked around for a few quotes from the folks who worked on Jewel Quest Mysteries 2, and here's what I got.
"this hidden object game is so rich and lavish, you feel like you've been dropped right into the actual locations"
Andrew – Lead Quality Assurance Engineer
iWin Wonder Producer Dennis had this to say:
"I wish everyone in the world can be as awesome as Terrie. Without her, iWin would fall to pieces"
Truer words have never been spoken, but then he gave his actual quote.
"

I hope everyone will enjoy the game because we really put a lot of effort into it"
Then we pretended to be cops and mercilessly interrogated Dennis until he caved and gave us the following interview:

Q: Describe for us what it was like making Jewel Quest Mysteries: Trail of the Midnight Heart
It was both heaven and hell for the team this time around. There was always some type of heated debate between team members on what features to add and keep. At times, it could be described as "Live bees pumped into air conditioning." But in the end, when we do our focus group testing or when we take early builds to have our family members play-test it, the positive reactions we get makes it all worthwhile.
Q: What is your favorite element of this exciting new game?
A: The team really liked how the traveling scrolling screens came together. We really wanted to get some new mechanics into the hidden object genre, and hope introducing parallax scrolling screens will add a new dimension to the gameplay.
Q: What are the main differences between Jewel Quest Mysteries: Curse of the Emerald Tear and its sequel, Jewel Quest Mysteries: Trail of the Midnight Heart?
A: Well, this time around, we went bigger and better on all fronts. More hidden object screens, more animations, more gameplay modes, better replayablility, and more upgrades to choose from. We wanted to make this a true sequel with all aspects of the game. We also added the scrolling screen this time around to give the player a different gameplay mechanic in addition to the tried and true hidden object screens.
I hope everybody gives Jewel Quest Mysteries 2 Trail of the Midnight Heart a play. It's a wonderful game, and I'm very proud to be a part of it!