Hi Guys!
You may have noticed that we have 3 extra 500 iCoins/$9.99 games this week.
You didn't notice?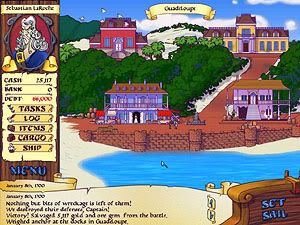 Hey guess what?  We have 3 extra 500 iCoins/$9.99 games this week!
In anticipation of the new Tradewinds Odyssey game coming out on Monday, June 15th, we've discounted 3 earlier Tradewinds titles; Tradewinds 2,  Tradewinds Legends and Tradewinds Caravans through the end of June.
If you haven't checked these games out yet, take a look.  If you like games such as the Chocolatier series and Lavender's Botanicals, then you'll love the Tradewinds games.  They're not similar, they're the originals that these other games built off of.  And sure, Chocolatier has chocolate, but Tradewinds has pirates!  What could be better?  Ooh, chocolate pirates!
I have spent countless hours playing these games.  Unfortunately that was on my old compter, because I would love to show you a screenshot of the 14 BILLION dollar fortune I had amassed by the time I finally staggered away from Tradewinds 2.  That's not a typo, that is billion.  With a "B".
But the Tradewinds games are not only favorites of mine, our very own iWin producer and renowned blogateer Andy produced Tradewinds 2 and Tradewinds Legends!
I asked him for some cool tidbits about the games he worked on, and he absolutely innundated me with a ton of fun factoids and great gameplay tips.
Fun Facts:
My kid sister Christine graduated from UC San Diego while I was working on "Tradewinds 2″, so as a graduation gift, I turned her into the main character in that game.  Another character, Sir Stephen the Silent, was her boyfriend.  They are still happy together.
Tradewinds was inspired by a 1979 Apple game called "Tai-Pan", that was in turn inspired by James Clavell's novel "Tai-Pan" that was published in the late 60's.
Between Tradewinds 1 and Tradewinds 2, the movie "Pirates of the Caribbean: The Curse of the Black Pearl" came out.  I decided to switch from fleet vs. fleet combat to having one badass ship fighting off hordes of enemies after that movie, and saw the movie in the theater a second time to get the effect of firing a cannon to "feel right".
The names of all of the cities in "Tradewinds Legends" are plays on words.
The Tradewinds franchise represented the first casual games to feature depth and complexity.  Before then, it was considered risky to do anything more complex than match-3 games for our audience.
One hallmark of all of the Tradewinds games was the random character and name generation system.  In Tradewinds Classic, nearly every ship name was taken from famous (or infamous) fictitious ships from movies, novels, cartoons or television shows.  I had the chance to exchange pleasant emails with some of my favorite authors when contacting them to make sure I could use their ship names.
For Tradewinds 2, I created a "Quest" system that serves up one major storyline for each character and a series of other quests that are part of everyone's world.  On any given playthrough, you will see at most half of the quests.
Artist Israel Evans painted the pictures of every port in this Caribbean world, then went on a Caribbean cruise afterwards, returned and said "I actually went to the ports in our game.  Sorry, but they look totally different."
We worked with a studio in India to create the visuals in this game, which includes one magical city floating in the clouds.  We had asked the artists to make something that looked "like heaven", and they replied back, "This is India.  Which 'heaven' do you mean?"
There is one quest where you have to escort a comical group of amateur adventure students on their quests.  Their names were Belegar, Drothbar and Legehawk, which were the online names for three students that worked with us on the game.
We researched all sorts of Middle Eastern history and art when putting Tradewinds Legends together, and learned that the classic "1,001 Arabian Nights" is actually a French adaptation of Middle Eastern oral traditions.  Most of the beloved characters in these stories are from France!
Gameplay Tips:
If you pay attention, prices are always cheapest on the first turn of the game.  You can judge the market based upon the prices on day one.  Sshhhh.
The composition of an enemy fleet depends upon how well you have been playing.  (This is true of TW 2 and Legends).  Whenever you are victorious, the game gives one more cannon to the enemy, then figures out some combination of boats to carry all of those cannons.
When you flee from battle, the game gives the enemy a tenth of a cannon. Flee enough, and that translates into a whole new cannon.
Banks pay interest monthly, while debts accrue interest weekly.  A strategy for working with the banks is to put all of your money into the bank during the last week of the month, then sail to another port where you have a bank, then collect your money with the interest!
(Legends)  About half the items in the Magic Shops are duds, but indistinguishable from the really useful ones until you actually purchase and use them.  If you sell a dud back to the magic shop, there's no guarantee that it won't show up again.
Cannons take up the space of ten crates of goods on any given ship, but magic spell attacks, which cost money, take up no space at all.
So give these games a play, I think you'll really like them, and be sure to check back on Monday, June 15th for the latest game in the series, Tradewinds Odyssey!