Hi everybody!
I thought it would be fun to talk about the stuff we do for fun when we're not playing games.
Do you have any hobbies?  Do you craft, bake, paint, birdwatch?  When you have free time, what do you do that's just for you?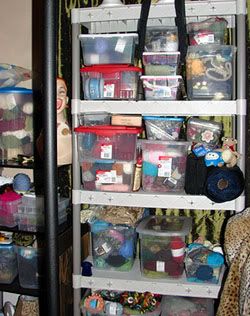 If you've read my blogateer bio, you know that I crochet, and that I have a sad and terrible yarn addiction.  Here is the devestating photographic evidence.
And that photo was taken shortly after I had put up the shelf, it's not nearly that tidy any more!
I haven't gotten around to make anything as complex as a piece of clothing yet, I actually can't stand to follow patterns, but I've made scarves, hats, a couple blankets and some amigurumi critters.
The biggest project I've done was a silk afghan I made for my best friends' wedding present.  It took 3 1/2 months, but was totally worth it because they absolutely loved it.
Of course the moment I pinned it out to block (shape) it, there was a cat on it.
There, I've shared, now I'd love to hear from you, and I'd really love to see some pictures!  I've started a forum topic where we can discuss and post pics of our master works.