So apparently there's some kind of flu out there, has something to do with pigs?  Or not?  It's hard to say, the media's not really giving it much coverage…
But here at iWin this week, we've all had Samantha Swift Fever!
I really try to play every game before it hits the site, but there's not always time for that.  Unfortunately, I didn't get a chance to play Samantha Swift and the Golden Touch until this morning, but I just finished playing for about an hour, and this is a really good game!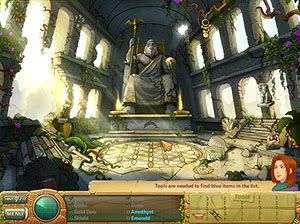 There are so many hidden object games coming out these days, that sometimes they get a little lost in the shuffle, so if you're a hidden object fan, make sure you give Samantha a try.
For starters, it's a nice combination of hidden object and adventure.  You're hunting for objects, sure, but you're also gathering clues and items to use in the various mini game puzzles, which feel like a seamless part of the story line.  You don't get that disjointed feeling of "I'm looking for objects, now I'm playing a mini game", it all ties in with the story so it feels like you're part of an interactive movie.
I also really like the multi level hint system.  If you're just a little stuck, you can click on the item in the list, and
an outline will appear in the blue scanner thingy on the menu.  If you're a little more stuck, while the outline is on the scanner, you can move the cursor around the screen,  and the outline will turn yellow as you get warm, and red when you're right on top of it.  This is really helpful for the hidden items.  If you're super stuck, you can click on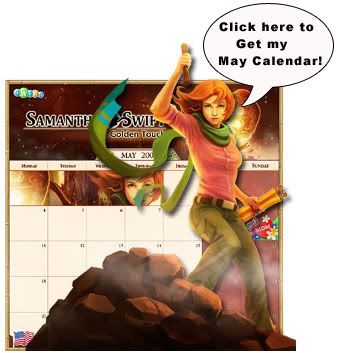 the hint button and you'll be shown exactly where the item is.  I really appreciated this during the times when I just wanted to see what was going to happen next, did I mention that the story is really fun?
To get everybody in the Samantha Swift mood, we've created a great May calendar that you can download and print for free.
We've also got a special combination bundle deal that combines the original Samantha Swift and the Hidden Roses of Athena and the New Samantha Swift and the Golden Touch.  You can get both games together for $29.99 cash or 1500 iCoins.  If you're a Platinum iCoins Member, that's only $10.50!
Are you still with me?  Have you read the whole thing?  Because I'm in such a good hidden object mood, and we have another awesome hidden object game coming out tomorrow, so if you were cool enough to read my entire post, I'm going to give you a preview of Mystery of the Crystal Portal.
Have a great weekend everyone!