It's Earth Day, and I wanted to do something to celebrate other than renew my car registration, which I did…On the very last day it's due.
Honestly?  There's never  a very high "yay" factor with any DMV related task.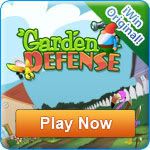 So instead we're offering one of my very favorite games,  Garden Defense, for only 100 iCoins or .99 cents for cash purchases!  No coupon codes, just put it in your cart and buy it.
Garden Defense was designed and created by everyone's other favorite iWin Blogateer Andy.
Kate left a comment asking, "when are we gonna be treated to the patented Megowan wit, charm and hilarity?",  and Garden Defense has that in spades!  Get it?  In spades?  With the gardening…sorry.
Seriously, you should check it out, it's a really fun game, and at that price it's a steal!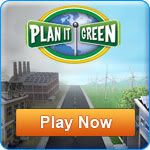 We also released a very fun "green themed" game today called Plan It Green.
It's very similar to Build-a-lot, but instead of fixing up houses to sell and make money, you're making houses and businesses more energy efficient, and reviving a downtrodden town.
Remember, you can save 8 gallons of water a day just by turning off the tap while you brush your teeth.
Happy Earth Day!