Hello there! Since I last posted, we here at iWin have been really busy… Hotel iWin launched, we have had loads of exclusive games (P.J. Pride Pet Detective, Destination: Europe, Mysterious City: Cairo, Nanny Mania 2) and we have increased our focus on bringing you awesome Steals & Deals (games that are up to 85% off retail price).
While we have been working hard to bring you all of these cool new games and features, it occured to me that there are some things that we do that might not be obvious… so I thought I would tell you about them.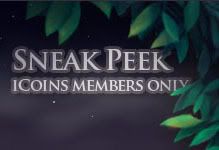 Firstly, for every iWin developed or distributed game that we launch on our site (about 20 a year), we have a program called "The Sneak Peek Program" which allows certain users to see, play and purchase a game days before it is launched at iWin.com or anywhere else.  How do you join the Sneak Peek program?  Well there are a few ways.  For our iCoins members, we try and send the games out about 3-4 days before they officially launch.  For our newsletter subscribers and toolbar installers, we send it out 1 day before it launches.
So what are all of these different programs?
iCoins – iCoins  is a great program because it allows its members to purchase games at deeply discounted rates (all games at least 65% off).  The best part is that unlike other game clubs, the iCoins program has three subscription tiers, one of which asks for no time or game commitment to join.
The Newsletter – if you aren't already a newsletter subscriber, you should think about signing up. Why? Well, we work hard to make sure that not only do we let you know of all the great discounts, promotions and new games that are out but we also send out email-only discounts and promotions all the time. Sign up by creating an account at iWin.com and then editing your mail preferences.
And finally,
The Toolbar –  Does everyone know about the toolbar?  If you don't have it, you are definitely missing out.  We update this toolbar every day, multiple times… just to make sure that our toolbar installers know about every promotion, discount or new game that launches at iWin.com.  What is even cooler is that just for downloading it, we give you a free copy of Jewel Quest Solitaire!  And just like iCoins and the newsletter, we work hard to make sure that we can offer our toolbar users special discounts and promotions that no one else has access too (psst- there is a 40% off coupon in the toolbar right now!!)

 Oh and… just in case you didn't see it… Jewel Quest Solitaire III is about to launch (iCoins members- you will get your Sneak Peek today!) To get everyone excited, we have created a downloadable March 2009 calendar,  just for you.  Get it now!  Enjoy!