There's a word that's been bandied about a lot over the last few months, and it's a word I don't care for very much.  The word is "staycation".  In a nutshell, it means taking your vacation at home rather than traveling.  Unfortunately, even with gas prices back down to a reasonable range, the uncertain economy has insured that staycation, both the word and the practice, may be here to stay for a while yet.
My problem with this is two-fold. 
First, the word made popular and endorsed as a positive thing by the media, who can probably afford to take real, going places vacations.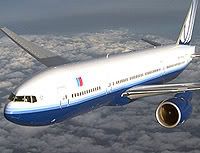 My second problem is that I like to travel!  I haven't done a whole lot of it, but vacation days are precious, and I'd much rather spend them exploring someplace new and exotic rather than my boring old hometown!  Even residents of Hawaii like to go somewhere else on vacation.
I would like to start a new word: Gamecation.  So many casual games these days take place in cool, exotic places, and have such amazing art that it's almost like being there, and you don't even have to use up any of your vacation or PTO days to do it.  I love playing these games and dreaming about future trips to those locations.  What's even better is when I've been to the place in the game, then it's like going through my travel pics!  Check it out.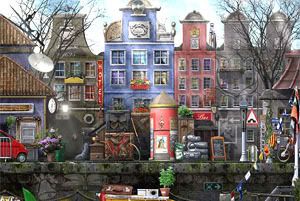 As you can imagine, P.J. Pride Pet Detective: Destination Europe takes place in several European cities, including Antwerp, Paris, Brussels and Amsterdam, where I've actually been.  Here's one of the Amsterdam screens from the game.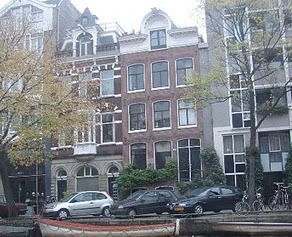 And here's one of my vacation pics from when I was in Amsterdam.  We stayed on a houseboat on one of the canals, and this is a picture of the houses across the street & canal from the boat.  Fairly similar.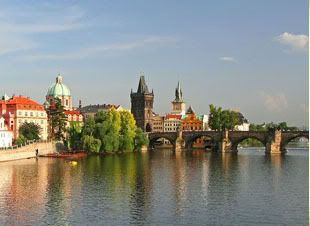 Here's a scene from Mysterious City: Golden Prague.  It's a distant shot of the St. Charles Bridge (it's that cool bridge in the Vin Diesel movie XXX)
And here's my shot of the palace and cathedral from the St. Charles Bridge.  I don't have a shot from the same angle because that was on the way back, and I was pooped and not so enthusiastic about the picture taking!
I've also been to Hawaii, so there's also Hawaiian Explorer: Lost Island, and of course Big City Adventures: San Francisco, which is really a staygamecation, because while I don't live in San Francisco, I do work there.
Then there are the game locations I haven't been to, but would like to go, but I think that's another post.
So talk to me.  Are you taking a vacation this year, and if so, where are you going?  Where have you been?  Have you taken any good gamecations lately?  Tell me all about it!