Hi everyone!
I'm Alexander from Russia and I work for iWin. As many other iWin employees I like my job. I like casual games and I "infected" my girlfriend, my mom and some of my friends with a love of these great games. It wasn't hard, they just saw how I play hidden object games!
Today I'd like to tell about my favorite characters in casual games. Although I haven't played every casual game, I try to play most of them. There are a lot of games, everyone has a favorite genres, favorite games and favorite characters too. And here are my top-3 people in games: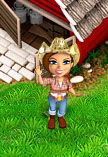 1) Sara from the Ranch Rush. One of the best farm sim games I've ever played. And Sara, she is pretty and a hard worker.
2) Gordon Ramsay from the Hell's Kitchen. He's very serious man. What do you feel when he is looking at you? Work faster and don't upset the boss

3) The funny cat from the Snowy Lunch Rush. Snowy Lunch Rush was the first casual game that became attractive for me. I like cats (you may see Masya photo on post about our pets), and every time I saw him I clicked him, did you try?
So I'd like to ask you: who is your favorite game character and why do you like him or her?